This LibGuide is designed to help you complete your research assignments and case study reports.
Follow the tabs above to locate appropriate resources and material.
For information on MLA style, select the citation tab.
If you need help or have any questions, please contact us!
A Career in Surgical Technology: Part 1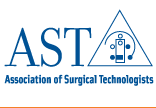 View this video about a career in Surgical Technology from the Association of Surgical Technologists.
Contact Us for More Help!
Have a question?
There are many ways to get help!